Service Shop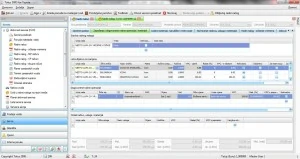 Totus DMS includes a complete solution for managing and organizing the business of a service workshop which fully satisfies all the needs of an auto house or service shop.
The basic part of the service shop module is the work order which contains data on agreed-upon parts and labour (along with the agreed price), data on ordered, reserved and actual spent parts, data on actual performed labour (with the possibility of keeping data on exact working time spent performing certain work operations) and, finally, data on work order invoices.
Creating invoices for a work order is highly flexible. Multiple invoices for a single work order are supported, with the possibility to choose which items will be included in an invoice and the possibility to divide the amount of one or more items between multiple invoices in arbitrary proportions. Advance payments are also supported.
Apart from work orders which are charged to the owner of the vehicle, or his insurance company, processing of warranty claims is also supported.
The service shop module further facilitates planning and organizing all activities of a service shop:
customer arrivals
workers' work time organization
keeping data on the time spent performing service operations
planning temporary substitute vehicles' usage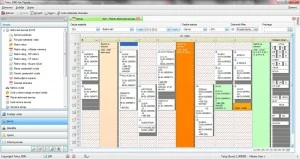 As previously mentioned in the sales module description, vehicles may have maintenance contracts associated with them that were concluded upon the sale of the vehicle. If a work order is started for a vehicle that has such a contract, DMS will automatically include data from the contract in the work order and use the discounts defined by the contract in calculating prices of parts and labour. As well as through a maintenance contract, certain discounts may be defined through special service shop terms. Service shop terms can be associated with particular customers that the auto house has special arrangements with, or they can be applied generally, to all customers. There is also a possibility for these terms to be automatically applied to work orders.
DMS can maintain data on service actions and vehicles that are included in them. When creating a work order for a vehicle that is included in a service action, the service shop worker will be informed of the service action's existence. In the National Based Setup service actions are entered once for the whole country, and then individual auto houses use that same data set. This setup facilitates countrywide monitoring of how many vehicles are arriving into service shops to perform the service action.
As a special addition let us point out the vehicle card, through which a service shop worker can gain quick insight into the history of all work on a vehicle that was recorded in DMS.